Starting a virtual assistant business may seem daunting at first, but it can be quite simple. A virtual assistant is anyone who works remotely (or from home) and provides professional services to their clients. These services can range from administrative skills to writing or designing, illustrating, or technical help.
The Guide on How to Create a Virtual Assistant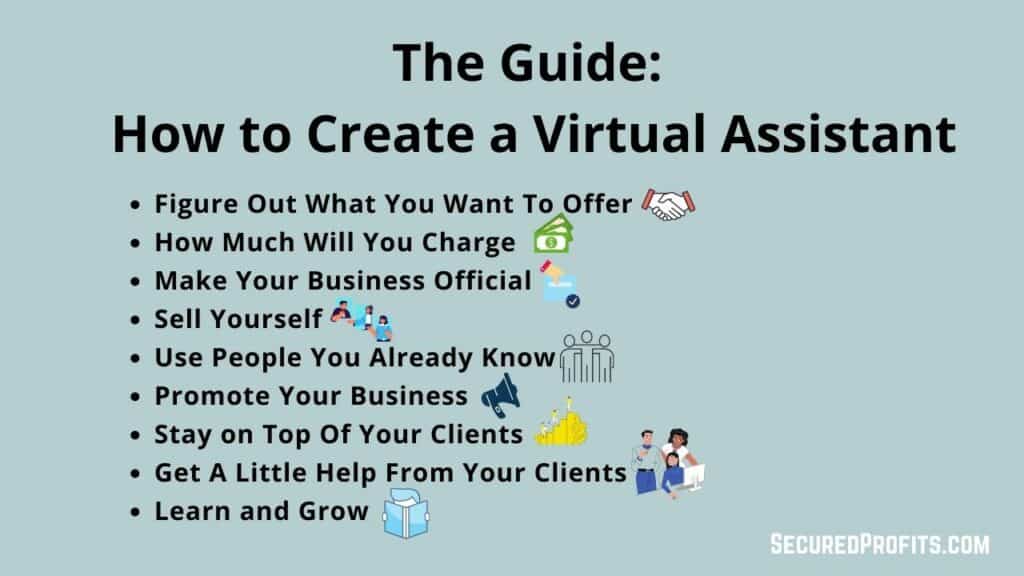 This guide will show you how to create a virtual assistant business from the ground up.
• Figure Out What You Want To Offer
First off decide what it is that you want to offer to people. Are you a good writer or illustrator? Maybe you are good with social media and you want to offer blog and social media account help. Make sure it is something that you already have some background in and are familiar with.
Being that this is going to be your business and your own brand make sure that once you decide on your services that you name your business in its likeness. Some people just like to use their name, some will use a catchy title or phrase, just make sure that it is easy to spell to make it easier for prospective clients.
• How Much Will You Charge
Deciding on what your rates will be for your services can be a little bit tricky. Make sure that you are making the rates reflect your time and worth, not just some random number. Always remember to add on a little bit for any overhead that you may have like subscription, advertisement, or website fees.
Remember to not shortcut yourself. You don't want to get into the business and undercharge and find out down the road that what you are doing is not worth it. You can always adjust your fees along the way, but it may be difficult with existing clients and contracts. Make sure to charge what you believe you are worth!
• Make Your Business Official
You will want to make your business official by registering it with a business license. Most states require you to have a business license even if your business is virtual and not brick and mortar. Always check to see what else you may need such as a DBA if you are using a different name for your business than your own.
This will also determine how you will be taxed for your work, so make sure to look into how you want to do that as well. If you are required to get a business license, then your taxes will be tied to that license and that is how you will file at the end of the year.
• Sell Yourself
This is where you decide how to sell yourself. How are you going to market your services? Using social media is a great way to showcase your services. Tell people what sets you apart from the rest of the crowd. Getting set up on sites such as UpWork where you can browse for clients based on the type of work and market yourself through their free service is a great way to start.
You can also set up your own website to sell your services and create a blog and email list to send out invites to potential clients. Many services like BlueHost, GoDaddy, SiteGround will help you set up and get your website started along with an email account. 
• Use People You Already Know
Contact people in your current network to spread the word. You may get clients from people you already know or they may know someone else or be able to forward your information on to others.
Getting your initial clients can be half the battle as you build up a new client list and figure out what exactly your marketing strategy is going to be, but keep it up! Once you start building your client list it will become easier for you to add on to it.
• Promote Your Business
If you have just started, you do not need to pay for advertisement. You can use low budget online strategies. This is where having social media accounts comes in handy. You can also have others from your network or even friends and family post your services on their accounts in order to get more views. You want to get your name out there in as many ways as possible.
You can also pay to advertise on social media sites and search engines like Google, but be careful that you are not spending more than you are recouping for your efforts. It is always best to exhaust all free avenues first before resorting to paid methods. You would be surprised how well word of mouth works in this business.
• Stay on Top Of Your Clients
Once you begin to get clients in, make sure that you keep them by producing quality work, being on time, and always delivering what you have promised. This goes along with being able to get more clients through word of mouth, they will refer people to you that need your services if you provide them with excellent service.
Always make sure that you and your client are in complete agreement on what the details of the contract are so that there is no confusion down the line. Just like a bad review on a meal at a restaurant, having an unhappy client can be a detriment to you and your business.
• Get A Little Help From Your Clients
If you are doing a good job for your clients ask them for a testimonial on what a great job you have done that you can use to advertise on your social media accounts or website. This can be a short blurb about how your services have helped them, you can use a 5-star rating system, or they can deliver a video message for you to add to your site. Any good feedback is great for attracting new clients.
Also, don't be afraid to ask for referrals. Let your clients know that you are accepting new clients should they have anyone in need of your services. It never hurts to ask and if you are doing a good job for them, they will want to refer others to you. You can also set up a referral system that rewards clients by giving them some kind of discount should you get a new client from them.
• Learn and Grow
Even as you build up your client list and start doing well, make sure to continue to educate yourself and grow in your area of expertise. Here are some steps on how to start your own business. Things constantly change and you always want to be in front of anything in your niche. This could mean taking courses, reading books, or learning from other virtual assistants. 
Whatever your service is just remember to never stop growing. Your clients will love you for being on top of any new changes fast, and it will showcase your abilities as well.
Looking Ahead
Starting your own virtual assistant business can be scary, but it gives you the freedom to be your own boss, set your own schedule, and do something that you enjoy. Don't be afraid to put yourself out there and talk to people to get clients. And once you get them to continue to make them happy, many virtual assistants find that once they have a solid client list they no longer have to solicit for new ones because they get them from referrals. Put in the effort upfront in the beginning and make sure to set up your business the way that you want it, and it will make for much smoother sailing down the line.
LATEST ARTICLES