More and more people are getting interested in making money through affiliate marketing. And there is a reason for that. If you have the required patience, it's quite easy to make a living through this. So, if you are thinking about earning through affiliation, it is normal for you to wonder – can you really make money doing Affiliate Marketing?
Affiliate marketing is one of the easiest ways of passive income. You can actually make a significant amount of money through advertising the products of a company on your blog or website. You only need to become partners with a trustworthy brand.
In this article, I will explain how it is possible to earn money through affiliate marketing and how much you can make money from this line of business. Finally, I will introduce you to some affiliate marketers who have become successful through this. Their stories will give you a clear idea of what you should be aiming for.
Is It Possible to Make Money from Affiliate Marketing?
The business of affiliate marketing is flourishing every year. According to a report by Statista, the affiliate marketing industry in the U.S. will become $8.2 billion within 2022.
As you can see, those are only the statistics for the U.S. market. Affiliate marketing is also increasing in other countries all over the world. So, you can definitely take a chance with this growing business.
If you have a blog, website, or YouTube Channel, affiliation can be a steady source of passive income for you. Moreover, if you do not have any of these platforms, you can start affiliate marketing through email. You do not need to invest a lot of money or time, but you have to be hard-working and determined to grow your affiliate business.
How Does Affiliate Marketing Work?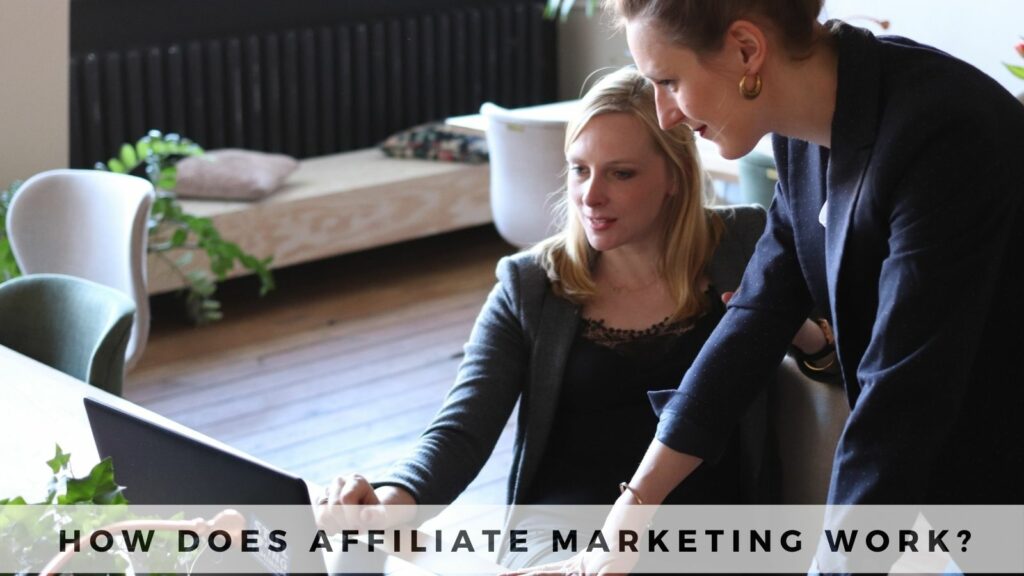 For every affiliate marketing beginner, it is important to understand how the business works and who are involved in the business. There are mainly three parties involved in affiliate marketing. To make a successful affiliate business, each of these parties must have a close relationship with each other. Let us briefly learn about each of these parties:
1. The Product Creator or Seller
A product creator or seller is a person or a company who produces the products to sell to the consumers. The products can be physical objects such as household goods, electronics, and makeup products. It can also be any kind of service like travel agencies, online educational courses, or insurance.
The product sellers or merchants allow affiliates to promote their products so that they can reach more customers and gain profit. When the merchants are able to sell their products through their affiliates, they share a percentage of their income with the affiliates.
There are some companies or websites that will pay you for any products sold by the advertisements. It means that customers may follow your link for a product but then buy something else. The brand or website will give you a percentage for those transactions as well.
2. The Affiliate
The affiliates or the publishers are the people who promote the products and services of the merchants. Similar to the merchant, an affiliate can be a person or a company. To become an affiliate, you have to join the affiliate program of a company. If you feel confident, you can become partners with more than one.
As an affiliate marketer, your job is to get the attention of the potential customers for the products or services. The affiliate marketers promote the products and services on their blogs and websites. So, they have to choose a product that matches the interest of their audience. And you can start a blog with no or very little money.
When an affiliate successfully sends some of his audiences as buyers to the product sellers' website and they buy something, he gets a percentage for the sale. To earn a good percentage, an affiliate marketer has to research various products and find out which are more attractive to his audience.
3. Customers
The customers are the key drivers of the affiliate marketing business. The affiliates share product links of different companies or blogs with the customers through blog posts, websites, and social media.
When they visit these links to products, they may get interested to buy the products. When customers buy the products, both the company and the affiliate share a profit. Most of the time, customers do not know about this affiliation.
But, sometimes, the affiliate may disclose the matter to the customers. However, customers rarely have to pay more than the usual price. So it doesn't really matter in most cases.
How Do Affiliate Marketers Get Paid?
It is not like that you can make money only if the customers buy any product. Depending on the affiliate programs you have joined, you can be paid in different ways.
Pay per sale: It is the typical affiliate marketing payment system. The merchants give a percentage to an affiliate each time a customer buys a product following the link provided by the affiliate. 
Pay per lead: An affiliate gets paid for sending leads to a company page or website. The customers have to fill up forms for trial products, subscribe to newsletters, or take part in surveys.  
Pay per click: In this case, the affiliate is paid based on how much traffic he is sending to the product seller's page. So, the affiliate has to convince the visitors in such a way that they would visit the product link.  
How Much Can You Make from Affiliate Marketing?
How much you can make from affiliate marketing depends on your skills and experience. It also depends on the niche and products you will choose to promote. Besides, your income also depends on which type of products you are promoting, such as high ticket or low ticket products.
A low-level affiliate can earn about $300 per day. However, with proper time and strategic planning, an affiliate can increase his income to $3,000 per day. There are many cases where people have successfully increased this number even further. These people are known as the gurus of affiliate marketing, and they can earn up to $10,000 per day!
Successful Affiliate Marketers
Nothing inspires people more than success stories. Would you like to know about their income? Here are some successful affiliate marketers who have become prominent names in the affiliate marketing industry.
The first person you should know about is Pat Flynn. He started his affiliate marketing business in 2008 when he lost his job. Then he made $8,000 per month through affiliate websites. However, it increased to $50,000 per month in 2013. In 2017, his passive income rose to more than $100,000. 
John Chow is another successful affiliate marketer. He turned around his business just in 3 years and became an affiliate guru. Chow started with a little investment, but now he makes more than $50,000 per month. In a recent interview, he said that he spends only two hours a day on affiliate marketing. JohnChow.com is one of his successful websites that gets 200,000 monthly visitors.
Zac Johnson is another famous affiliate to have started his career participating in Amazon's affiliate program. Then he moved on to bigger things and found his own brand. He has an estimated earning of over 100,000 per year, which is pretty incredible.
I think anything is possible if you have the mindset and the will and desire to do it and put the time in.

– Roger Clemens

If you look up the success stories of other affiliates on Google, you'll see almost all of them had humble beginnings and small investments. Only to come out as industry leaders in a matter of a few years. Their success stories are a strong motivation for anyone new to affiliate marketing.
Final Thoughts
By now, hopefully, you have got your answer to "Can you really make money doing Affiliate Marketing?" But the most important thing is your dedication and perseverance.
You can also check out my #1 Recommendation on building and having your business with a flexible schedule. The classes will help you to build your affiliate business from scratch. It's very easy to follow and you can try it for free.
Affiliate marketing, like any other business, requires time and determination. However, it is possible to make a decent amount of money if you play your cards right and understand the craft well.
Hope this article and few tips were helpful and have given you a few ideas. Tell us in the comments below!
I wish you all the best in your future affiliate career.
To Your Success,
Haly
LATEST ARTICLES