God's heart overflows with blessings, love, and generosity – and He desires the same abundant life for us.
Think Abundantly – Live Abundantly means syncing our mindset and actions to God's overflowing abundance. It's recognising that His blessings are limitless, and then living generously as a result. When our thinking is steeped in Biblical Truth about His grace, we experience the joy-filled, purposeful life Jesus died to give us.
So how do we walk in kingdom abundance? The Bible provides the keys to abundant thinking and living that open the way for more of God's goodness. As we explore simple, practical ways to apply these keys, God's love and blessings can permeate every area of our lives. Get ready to learn how welcoming God's abundance transforms everyday moments into joyful glimpses of His kingdom.
1. Be Thankful: The Key to Abundance
▸ Count Your Blessings
Cultivating an attitude of gratitude is essential for abundant thinking. Make thanking God your regular habit – thank Him for blessings large and small. Sing songs of praise for His gifts. Journal all that you're grateful for. Voicing gratitude out loud keeps your mind centered on God's generosity.
Do your prayers consist only of requests without thanks? Change that!
Start your prayer time acknowledging God's nature and thanking Him for the ways He has blessed you. Keep a prayer jar – write notes of gratitude for God's gifts as you notice them. Then read them when you need to be reminded that you are loved and cared for. Let your mind overflow with praise.
1 Thessalonians 5:18 tells us to "give thanks in all circumstances." When we get in the habit of thanking God regularly throughout the day, it shifts our focus. Instead of being consumed by problems, we begin noticing God's gifts and blessings all around us.
▸ Thank God for the Future
God has amazing blessings in store for us that we can't yet fathom! Thanking Him now for the ways He will bless us in the future builds our hope and expectancy. When we praise Him ahead of time for the healing, breakthroughs, open doors, provision, and joy to come, it expands our capacity to receive.
Do you only express gratitude after the fact? Start thanking God now with hopeful anticipation for the wonders He is going to do. Let your mind envision the abundant life He is preparing. Get excited thinking about His goodness on the way! Training our minds to thank God in advance grows childlike faith.
▸ Think of Others' Needs
Abundant living shifts our focus from self to blessing others. Look beyond your own interests and ask God to reveal the needs around you. Who could use prayer, a listening ear, or practical care? Be Jesus' hands and voice to someone today.
When your thoughts swirl around your own problems and desires, you can get stuck. Pray for God's compassion and care for those around you. As you turn your eyes to the needs of others, your heart expands with God's love.
God desires us to steward all He's given us for eternal impact. Look for needs you can meet, then give generously of your time and resources.
Trust that as you invest your gifts on earth – eternal rewards will await you. As you allow God to pour His blessings through you, have confidence that He will continue to provide for you. Find deep joy in becoming a conduit of His generosity to others.
▸ Encourage Others
Make the words you speak to others empowering and uplifting. Tell people how you see God's gifts and potential in them. Send notes to appreciate and encourage. Choose to listen with empathy rather than critique. Let your speech overflow with positivity and life.
If you feel uncomfortable or you are shy, ask God to help you and make your words a fountain of blessing. Before rushing to fix someone, ask if they simply need compassion. Call out the gold you see in them rather than criticising their flaws. When those around you need hope, speak words that inspire courage and comfort rather than condemnation. Let kindness flavour every conversation.
Watch what happens when you cheerfully pour out what God has given you. You receive the even greater joy of co-labouring with Him to bless the world around you. Our generosity ushers us into an abundant life.
3. Trust God's Help
▸ Keep Your Thoughts Centred on God's Kingdom
The more you meditate on His plans and purposes, the more your trust in Him will grow. When you seek first His righteousness, you can rely on Him to supply all you need.
Make it a daily practice to pray "Your kingdom come, your will be done" in your life and world. How is God calling you to serve others and advance His work? Staying focused on building His kingdom rather than your own will strengthen your faith that He will help you. Keep your mind fixed on who God is and what He cares about. This is the path to peace and reliance on Him.
▸ Ask God for What You Need
Jesus invites us in Matthew 7:7, "Ask and it will be given to you." Bring your needs to God in prayer. Ask for wisdom, healing, provision, guidance – anything. Trust that your loving Father hears you and will help.
Thank Him that He is in control and cares deeply about your concerns. Giving it over to God and trusting His peace grows your faith that He will assist you. Through prayer, abundant life replaces anxious striving.
▸ Trust God to Meet Your Needs
When anxiety or discontentment creep in, redirect your thoughts to God's promise: "My God will supply all your needs according to his glorious riches in Christ Jesus." (Philippians 4:19) Thank Him that He cares for you and will help you.
Remember that God knows exactly what you need and when you need it – even better than you do! He promises to provide for you, though not necessarily give you every desire. Abundant thinking trusts God completely to care for you. Keep your mind centred on His faithful goodness. He will give you what is best at the right time as you seek Him first.
Recommended Articles:   
‣  Budgeting Biblically: 10 Tips for Managing Your Money God's Way 
‣  Avoiding Debt: Biblical Wisdom
‣  How to Take Control of your Thoughts – The Biblical Way
‣  Transform Your Life: The Power of Your Thoughts through Faith
‣  7 Powerful Benefits of Prayer: Enriching Your Life
4. Follow God's Plan
▸ Seek God First
An abundant life starts with trusting God fully and following His lead. Make seeking Him a priority rather than trying to control outcomes yourself. Set aside regular time to pray, read Scripture, and listen – this is how you discover His heart and direction.
In busy seasons, do you cut back on time with God because you feel too rushed? Remember that busyness often distracts from what's most important. Fight for margin in your schedule to position your heart to receive all God has for you. Don't let the busyness of life crowd out the abundance of God. Place Him first.
God promises strength when we feel feeble. Take courage in His word that He will never fail you. Staying close to God while obeying may not always feel easy, but it opens the way for spiritual blessings and intimacy with Him. Say yes to God's path.
▸ Walk in Step with the Spirit
Abundance flows when the Holy Spirit directs our thoughts, words, and deeds. Begin each day by asking Him to lead you. Stay attentive to any nudges you sense to speak or act. As you walk in step with the Spirit, your life naturally produces His fruit.
Do you normally make schedules and to-do lists without praying first? Try starting each day by asking the Spirit to lead you instead of defaulting to your own plans. Depend on His wisdom moment by moment. Stay tuned in to the voice of the Spirit within. He desires to lead you into blessings, purpose, and joy beyond what you can orchestrate yourself!
5. Be Happy with What You Have
▸ Appreciate the Blessings Around You
Abundant thinking starts with gratitude for what you already have. Take a minute to look around and thank God for five visible blessings – like the clothes you're wearing, the meal in front of you, or the roof over your head. When we express gratitude for how God meets our needs, we stop feeling like we don't have enough.
Do thoughts of what you lack lead you to compare and feel dissatisfied? Ask God to transform your thinking. Intentionally choose gratitude by keeping your mind on the ways He provides for you right now. Counting your blessings guards your heart from discontentment.
▸ Find Joy in Simple Pleasures
Searching for joy in possessions and success will leave you empty. True contentment is found in the simple gifts from God each day – a golden sunrise warming your face, laughter around the dinner table with people you love, the giggles of a child playing. When we pause to notice and appreciate these small moments of beauty, they fill our hearts with gratitude.
The greatest joys in life are not things we accomplish or buy for ourselves. But gifts we experience in relationships, nature, and the wonder of ordinary moments.
6. Think Positive, Like God Wants
▸ Replace Negative Thoughts
Abundant thinking requires taking all negative thoughts captive by replacing them with truth (2 Corinthians 10:5). Don't entertain worries – pray about them instead. When you mess up, receive God's grace to grow rather than berating yourself.
Do you tend to speak defeating words over your appearance, abilities, or relationships? Stop and trade those false narratives for what Scripture says about who God created you to be. Speak affirmation aloud. Verbalising kingdom truth creates space for the blessing to overflow.
▸ See Challenges as Growth Opportunities
Trials will come, but how we view them makes all the difference. With abundant thinking, we see troubles not as punishment but as opportunities for growth. Pray for God to use difficulties to shape your character. Ask Him to show you what He wants you to learn.
When faced with problems, do you default to complaining or discouragement? Attempt to thank God instead for how He will use this for good. Look expectantly for the ways He will reveal more of Himself or develop spiritual fruit in you. How could this hardship prepare you for future ministry? Abundant thinking sees trials as preparation for a greater purpose.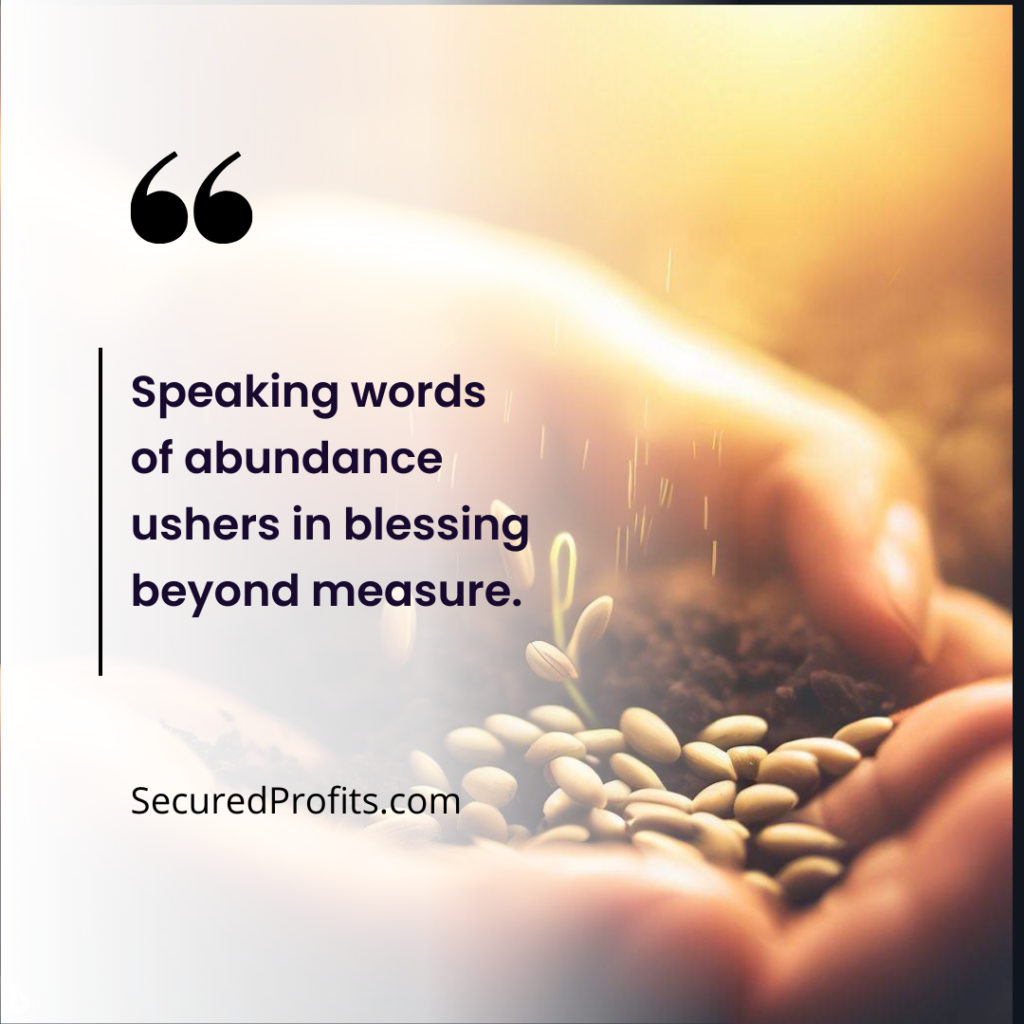 ▸ Stay Hopeful About the Future
You have a beautiful, hope-filled future ahead! Abundant thinkers trust God's promise that He is preparing wonders beyond what we could dream up (1 Corinthians 2:9). Life with Christ overflows with meaning, happiness, and gifts from your generous Father.
When future worries creep in, purposely shift your mind to the truth. Your loving, all-powerful Father holds your tomorrows. Thank Him that His plans for you are wholly good. Nothing thwarts His purposes. Trade fretting for the joyful expectation of His amazing kingdom adventures ahead! He wants to do more than you can ask or imagine.
7. Enjoy Every Moment
▸ Appreciate Today's Gifts
Do you ever feel like you're just going through the motions each day without fully experiencing life? In our busyness, it's easy to miss the blessings right in front of us. We rush past moment after moment without noticing God's gifts.
When we train our minds to see and appreciate God's daily gifts instead of hurrying past them – something shifts. Our pace slows, our focus sharpens, and we begin to perceive God's presence woven through all of life. Our hearts swell with gratitude. We start to experience the joy and wonder of living truly awake to God's abundance.
Living abundantly begins with noticing. Open your eyes to see God's blessings today!
▸ See God's Hand in Every Detail
Do you ever go through your day and miss seeing God at work all around you? We can start to think of God as distant, not involved in the details of our ordinary lives. But when we learn to look, we notice the fingerprints of God everywhere.
Once you begin to pay attention, you realise – God is orchestrating, providing, delighting, comforting, and guiding in countless ways every single day. He is Immanuel, God with us. Even mundane moments become meaningful when we train our eyes to recognise God's handcrafting our lives.
Don't miss the miracle that is THIS moment. Where do you see God's fingerprints today? Look for Him, and you'll find awe and meaning in the abundance of right now.
Closing Message
Abundant living starts with abundant thinking. As we renew our minds according to God's truth and align our thoughts with His generous heart, we position ourselves to experience more of the joyful life He intends for us. We recognise the blessings surrounding us, walk in greater faith and gratitude, and share His love with others.
I pray that through applying the keys in this article, you will grow in thinking abundantly about your amazing God and all He has in store for you. May your life overflow with contentment, purpose, and blessing as you keep your mind stayed on Him. 🌱🌻
What are some ways you can practice abundant thinking this week? I'd love for you to leave a comment below sharing what most stood out to you in this article or how you plan to apply it. May we think big about how He wants to use us to build His kingdom every day!